Woman appears in court charged with manslaughter of Bertie Acheson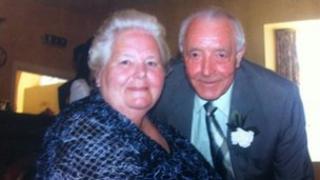 A woman has appeared in court charged with the manslaughter of County Londonderry pensioner, Bertie Acheson.
Jennifer Toland, who is orginally from Antrim, was granted bail at Ballymena Magistrates Court.
Mr Acheson, 72, died from a heart attack after a break-in at his house in Coleraine in April. He collapsed after confronting an intruder.
A detective constable told the judge there was evidence linking the 23-year-old accused to the crime.
Outlining some details of the case to the court, the officer said that during the early hours of 30 April, Mr Acheson and his wife heard the sound of breaking glass at their Glenmore Gardens home.
Mr Acheson got out of bed and was confronted by an intruder who demanded money. His wife called the emergency services.
Paramedics who arrived at the scene found Mr Acheson lying on his back in the kitchen, with a facial injury - showing no signs of life.
He was pronounced dead at about 07:30 GMT that day.
Ms Toland, who is pregnant with her second child, was arrested on 12 November on suspicion of Mr Acheson's murder.
After being interviewed by detectives, she was charged with manslaughter.
She was released on bail after the district judge said it would be inappropriate for a woman in the middle stages of pregnancy to be in custody.
The accused is due back in court in two weeks' time.
Meanwhile, the police are continuing their investigation into Mr Acheson's death.