NI 'considered' among UK locations to host 2013 G8 summit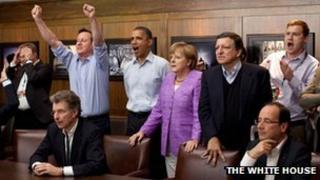 Government sources say Northern Ireland is among a number of locations within the UK that are being considered for next year's G8 summit.
The event brings together leaders from eight of the world's most powerful economies.
The County Fermanagh newspaper, the Impartial Reporter, has said there are growing indications the summit could be held in Fermanagh in June 2013.
This year's G8 summit took place at Camp David in the US state of Maryland.
Next year's gathering will be the first in the UK since G8 leaders met at Gleneagles in Scotland in 2005.
The newspaper has claimed the five-star Lough Erne golf resort in County Fermanagh is under consideration as a possible venue.
Two years ago, Prime Minister David Cameron was reported as saying he would like future G8 meetings to focus on strategic foreign and security issues, to prevent duplication with the wider group of G20 nations, who have been given premier responsibility for economic affairs.