Marine investigation report on Belfast Lough crash is released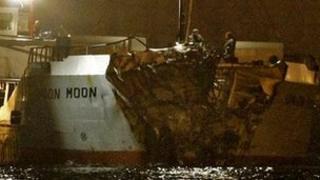 The Marine Accident Investigation Branch has released its report into a collision between a ship and a ferry in Belfast Lough on 7 March.
The collision between the Union Moon and the Stena Feronia resulted in £1m worth of damage.
The Union Moon's captain, who was drunk while in charge of the ship, was sentenced to a year in jail.
The report says there was a lack of action by the bridge teams of both vessels.
It says there was inappropriate course alteration by Union Moon's master through impaired performance after excessive alcohol consumption.
The report adds that there was a lack of clear guidance regarding traffic flow around the Fairway buoy, and a delay in avoiding action by Stena Feronia's PEC (Pilotage Exemption Certificate) holder "through lack of appreciation of the limited time available".
It says there was also sub-standard VHF radio communications and procedure leading to distraction and possible delay in the avoidance of a collision.
There were no injuries as a result of the collision.
Union Moon captain, Miroslaw Pozniak, 55, admitted being three times over the alcohol limit when the ship crashed, but said it was because of news of his wife's ill health.
He was at the helm when the ship crashed into the Stena Feronia, which was on its way from Birkenhead, Merseyside, to Belfast with 92 people on board.
The collision happened close to the Fairway buoy about a mile and a half from shore between Carrickfergus and Helen's Bay around 19:45 GMT.