Lawyer: Bank ATMs in Belfast and Lisburn targeted in scam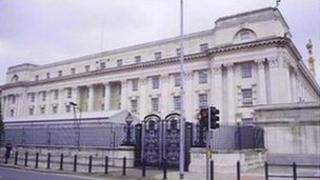 Up to 13 bank cash machines in Belfast and Lisburn were targeted in a cash machine scam plot within 24 hours, the High Court has heard.
Faults at the ATMs are being linked to devices allegedly used in attempts to cheat customers, prosecutors revealed.
Gabriel Popa, 28, who is accused of tampering with machines, is seeking permission to work in Spain.
The application was adjourned until guarantees could be obtained from the proposed employer.
Mr Popa is charged with 15 offences including criminal damage, possession of articles for use in fraud, attempted theft and having false identity documents.
The Romanian national, with an address at The Elms, Malone Road, Belfast, was detained with another man in Lisburn on 5 July.
Tracked suspects
He was allegedly carrying a screwdriver, scissors, cloned bank cards and a counterfeit Dutch identity card.
The court heard that following arrest he replied: "I'm on holiday."
Prosecution barrister Fiona O'Kane said police who tracked the suspects using CCTV cameras discovered that Halifax, Bank of Ireland and Northern Bank ATMs in the area were out of order.
She said the devices, known as traps, were used at six bank cash dispensers in Lisburn city centre.
Devices are put into machines immediately after use so that money is withheld from the next customer, the court was told.
Fraudsters can then seize the cash debited to the victim's account.
Mrs O'Kane added: "Further enquiries revealed six Ulster Banks and a Santander branch in Belfast had been identified with similar faults on 4 July."
Trap devices
A counterfeit card used at those machines before they went out of service was allegedly found on Mr Popa.
He has denied any involvement with the trap devices.
A laptop and card-reader was seized from the home of his co-accused.
This man claimed the reading device belonged to a Romanian national but refused to say anything more for fear of reprisals, the court was told.
Mr Popa, who was previously granted bail, was seeking a variation to allow him to take a job offer in Malaga.
Defence counsel Jonathan Browne disputed prosecution claims that his client may not return if allowed to leave Northern Ireland.
The barrister argued that Mr Popa could have fled at any time since being released on bail.
He said the accused, who has degrees in management and sports studies, had previously worked in Spain after following his parents there on completion of his education.
Adjourning the application, Mr Justice Horner said he would be seeking a £15,000 cash deposit and daily assurances that Mr Popa was still in Malaga working for the proposed employer.