16 fuel plants raided in Northern Ireland since April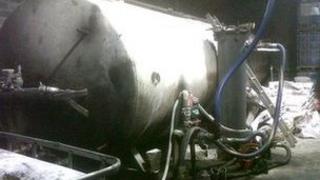 A diesel laundering plant dismantled in County Armagh on Wednesday was the 16th such facility raided in Northern Ireland since April.
More than than two tonnes of toxic waste were removed from a farm in Crossmaglen during an operation involving police and customs officers.
A project which has made the marker in rebated diesel harder to remove started in Northern Ireland this month.
Launderers remove the marker so as to sell low duty diesel as road fuel.
Earlier this year, a committee of MPs has said it was disappointed at the lack of progress on new measures to tackle fuel fraud in Northern Ireland.
John Whiting, of HM Revenue and Customers, said a joint project to find a more robust fuel marker was jointly launched with authorities in the Republic of Ireland in the summer.
"We've got an interim project here in Northern Ireland which has increased the strength of the current marker, that has just started earlier this month," he said.
"We've also set up a procurement opportunity for industry to come up with a new, more robust marker.
"That project is ongoing and has very tight timescales within the next 12 months for that project to be completed."
Mr Whiting said often when plants are raided, those operating them, are not present. He said the likelihood is that they will then open new laundering plants.
"I don't think it's a losing battle, but I think it's a continuing battle," he said.
"It's actually the 16th laundering plant that we've discovered since 1 April and we discovered about 30 last year."
Mr Whiting said more and more toxic waste - a by-product of the laundering process - is being found abandoned by the roadside.
"Indeed we discovered a vehicle yesterday that literally had a sort of James Bond-style ejector system, whereby waste product could be ejected from the back of a vehicle very quickly and fly-tipped at the side of the road," he said.