Waiting for the flood - Beragh people prepare for worst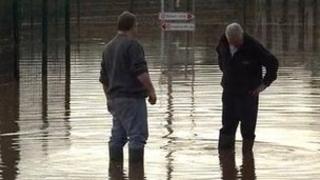 Since the Cloughfin River in the village of Beragh burst its banks last year, it has been cleared and the bank has been strengthened.
But the people of the County Tyrone village will have to wait another year before work starts on flood defences.
October 24, 2011 was an horrendous night for many people in Beragh. They fought a losing battle against the rising waters of the Cloughfin River.
Eventually they had to abandon their homes in the floods.
Soon after, they were promised new flood defences in 2013/14.
The Rivers Agency met the villagers in January this year to start discussing plans.
At a follow-up meeting on Wednesday evening, the residents heard that the Cloughfin River bed had been cleared, part of the bank realigned and an old railway bridge removed to help reduce the risk of flooding.
"I've only had one occasion this year to phone one of the neighbours to say, look, this is really really high here, I wonder is it going to happen again?" said Hazel Chapman.
She was one of the residents of The Meadows, the housing development that bore the brunt of the flood.
"The improvements they are trying to make so far have helped, but we're looking for more."
The "more" that they are looking for are flood walls. But procurement and other processes involved in a project of this size mean it will be next autumn before work starts. And it could take a year for it to be completed.
"If we get them on site here in October/November next year, that is a positive step forward," said Ger Treacy, an executive member of the Beragh Red Knights GAA club.
The team's £1m clubhouse was badly damaged in the flood. It sits alongside the Cloughfin River.
"I suppose it will take another maybe 12 months for the scheme to be fully completed. So all in all, we're waiting maybe 24 months," Mr Treacy said.
"While we would like it to happen quicker so people mightn't be affected by any more big floods, we have to be realistic as well and be thankful it will happen in due course."
In the meantime, the village now has a sandbag store, with 170 standard sandbags and another 100 inflatable ones. An early warning system has also been installed at Beragh Bridge.
It alerts Rivers Agency staff in three stages when the Cloughfin River starts to rise - when it reaches 1.8m, 2m and finally 2.5m.
This kind of information helps residents like Elaine Moses reassure her children. They had to be rescued by boat last year, as the flood waters streamed into their home.
"For one of them, it was an adventure. For the other, it was a real fear factor. Still to this day, even if the conversation comes up, the one who was frightened by it all will not talk about it. She'll leave the room," she said.
"So it has left its mark on her - doctors and professionals said the effect of her house flooding and all the upheaval had caused post-traumatic stress.
"We're always on alert - always. Even when I'm at work all day, one of my neighbours in particular would keep an eye for me and I would phone her if I was sitting 10 miles away and concerned about the level of rain that was falling.
"That fear won't ever go away till the wall is in place. I can only reassure my children as far as I am reassured."
Another meeting is being organised with the local police emergency planning officer. That is to help people as individuals and a community plan how to respond to a flood. Once agreed, it will make Beragh the first place in Northern Ireland to have a formal community flood plan.
"There's no real big element to it," said Constable Darryl Johnston.
"It's about making sure people know all of the small things they should be doing in order to help themselves.
"So whenever blue light services come along, if they were needing to be evacuated, they know that they have done everything they can to try to safeguard their own homes as best as possible."
Another meeting with Rivers Agency staff is to be arranged for next spring.