Meeting in Glens of Antrim on NI national parks plan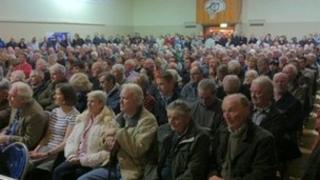 About 700 people have attended a public meeting in Ballycastle organised by those against plans for creating a national park in much of County Antrim.
They heard the views of those already living in one such park in North Wales.
Bolstered by Environment Minister Alex Attwood's decision not to impose such a park in the Mournes, they had invited him to attend.
However, he refused the invitation a few days ago.
One of the organisers, farmer Victor Chestnutt, said: "Our message to the minister is 'No national park here'.
"But he can use the money he was going to use to run a national park more usefully in the area, promoting tourism and the infrastructure."
Three men from Brecon Beacons National Park in Wales told the audience about their opposition to national park status and warned locals to reject the plans.
In October, Mr Attwood said he was going to "take stock" of his proposal to have national parks in Northern Ireland.
Mr Attwood told the assembly it was "only a proposal in principle" and that he aimed for "a balanced, reasonable way forward".
Northern Ireland is the only part of the UK without a national park, an area of protected countryside administered by its own independent government-funded body to look after its conservation and promote its benefits.
The minister had previously indicated that he wanted two to be created, with the Mournes, the Causeway coast, the Antrim Glens and Fermanagh Lakelands identified as possible areas.
There are 15 national parks in Great Britain and six in the Republic of Ireland.
More than 1,000 people attended a public meeting last month in Newcastle, County Down, where farmers and local residents voiced their opposition to the Mournes being designated a national park.