Prisoner had watch with camera and recording equipment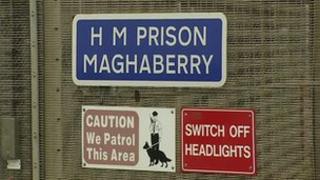 A watch containing a camera and recording equipment has been found on a prisoner at Maghaberry jail.
Justice Minister David Ford confirmed the item had been recovered in response to a written question from the DUP MLA Lord Morrow.
It was discovered during a routine search by prison staff on 8 October.
The prisoner involved is believed to be a foreign national. He has been charged with an offence under prison rules.
Mr Ford said: "During a routine search of a prisoner on 8 October 2012 he was found to be wearing a watch which had an inbuilt camera and recording facility. This is a prohibited article and was confiscated by staff."
Earlier this month David Black, a prisoner officer at the jail, was murdered.
The 52-year-old father of two from Cookstown was gunned down during an ambush as he drove to work on the M1 on 1 November.
The prisoner was being held in the main section of the jail and not at Roe House where dissident republican prisoners are engaged in a dirty protest.
It is understood the watch-camera he was found with can be bought for less than £100 on the internet.
Lord Morrow called for tighter controls in prisons.
"We have to remember why prisoners are in jail - it is not for any good that they have done, rather for a crime they have committed," he said.
"The murder of David Black demonstrates how vulnerable our prison officers are. We have got to give them as much support as possible. We must deal with issues that potentially put them at risk.
"The fact that this camera was found in a watch makes it worse because it was covert."
"This comes on the day when we learn that a photograph was taken of a prison officer at Londonderry Magistrates' Court on the day that David Black was murdered.
"There needs to be a complete re-think on devices which permit recording, whether it is either audio or visual."