David Tweed trial: Alleged victim was treated for depression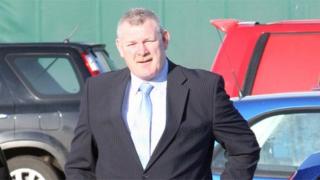 The trial of a former Ireland rugby international has been told that one of the alleged victims has been treated for depression.
David Tweed, a TUV councillor, is accused of sexually abusing two young girls over an eight-year period. The alleged victims are now adults.
On Wednesday, one of the women said she had kept the alleged abuse secret for years.
She said: "I didn't want to believe it."
The woman added: "I suffered from depression and got counselling.
"I didn't want to talk about it."
During cross-examination by a defence barrister at Antrim Crown Court, the woman said she eventually started to write down what she claims happened, before eventually going to a solicitor.
She said: "If I had my way, I wouldn't want to remember any of it, but I have."