Sinn Fein concerned at Belfast three ward street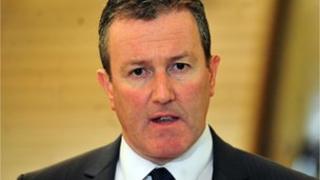 Sinn Fein has called on the environment minister to step in to ensure there is no confusion over electoral wards at the next council election.
MP Conor Murphy said his party had identified problems when it came to organising voters by postal code.
He claimed a Land and Property Services database provided to the previous Boundary Commission listed some streets in two or more wards.
Mr Murphy said one was Royal Avenue, which, he said, was under three wards.
He said that it had the postal code of BT1 1DL, but was listed under three wards Central, Duncairn and New Lodge.
He said his party had identified hundreds of similar examples and said there needed to be clarity over which section of Royal Avenue fell into which area.
If it is not cleared up in time for 2014, he warned, voters could end up with multiple polling cards, deciding not to vote, or voting in the wrong ward.
"I think the worst case scenario is bureaucracy kicking in and people saying because the Boundary Commission is wound up we have no vehicle for sorting this problem out and we go towards an election which causes confusion among the voters," he said.
He said that his party was trying to resolve the issue, but had hit a bureaucratic wall between the Department of Finance, which houses Land and Property Services, and the Department of Environment.
Commissioner
He insisted Alex Attwood, the environment minister whose department is responsible for councils, should take the lead, along with finance's Sammy Wilson.
When the BBC tried to get answers, the Department of Environment said it was a matter for the Northern Ireland Office. The NIO said it was a matter for the assembly and executive. The Department of Finance said it was a matter for the DoE.
Former Boundary Commissioner Dick Mackenzie said the data was not part of his report, but was put on the website as a source of information.
He said his wards were not drawn on postal codes, but on the basis of geographical lines on a map, taking into account population.
The Chief Electoral Officer declined to comment, but is likely to be involved in trying to clear up the confusion over wards.
One source said there were no wards as yet in law, but added that Sinn Fein was right to be concerned even though there was plenty of time to solve the problem.
One option is that the new District Electoral Area Boundary Commissioner might have his or her remit extended to ensure there was no confusion.