Increase in waits in emergency wards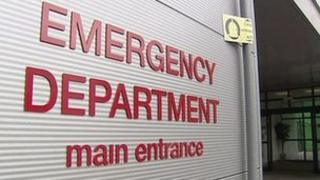 There has been an increase in the number of people waiting to be seen in some Northern Ireland A&E departments.
From Monday to Tuesday, the Ulster Hospital in Dundonald had a 29% increase in the number attending its A&E, compared to this time last year.
There were 13 people on trolleys on Tuesday for more than 12 hours, the South Eastern Health Trust said.
The Belfast Trust has also confirmed the Mater and Royal hospitals have a higher than normal number of patients.
While 371 turned up at both departments on Monday an additional 100 patients arrived by ambulance.
The BBC understands that at one stage on Monday night up to six emergency vehicles were queued at the doors of the Royal waiting to deliver patients and four had to sit for more than an hour-and-a-half.
Mary Hinds, the director of nursing from the Public Health Agency, said that it had been an extremely busy weekend, but the hospitals were doing their best to cope and eliminate 12-hour waits.
"We're in a better position today than we were last year," she said.
"I have a small team who are in the Ulster hospital working along staff there to help ease the pressure as best we can."