Daniel Carlisle accused of 'double murder bid' at Belfast bar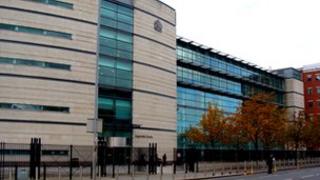 A Belfast man has appeared in court accused of trying to murder two men and burn down a bar in the west of the city.
Daniel Carlisle, from Moyard Parade, is also alleged to have thrown a petrol bomb and issued threats to kill during an incident on Sunday night.
The 22-year-old Belfast City Council employee was arrested after trouble flared at Trinity Lodge bar in Monagh Grove.
He was remanded in custody.
Mr Carlisle faces a total of 12 charges, including two counts of attempted murder and attempted arson endangering life.
Belfast Magistrates' Court heard he is also charged with assault, three counts of criminal damage and possessing and throwing a petrol bomb.
'Delicate situation'
Further charges involve threats to kill and to damage property, and the theft of petrol from a garage on Springfield Road
A PSNI officer said he could connect the accused with all of the alleged offences.
Defence solicitor Eoghan McKenna told the court: "This overall picture is very complicated, behind that is quite a delicate situation."
Mr McKenna added that issues about possible addresses have to be resolved before his client seeks to be released.
District Judge Harry McKibbin agreed to remand the accused in custody until Friday, when a bail application is to be made.