Pat Finucane murder: Report to be published in December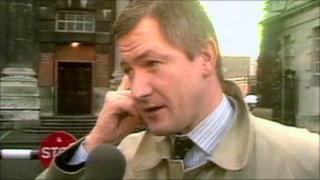 The report into the murder of Belfast solicitor Pat Finucane is to be published in full next month.
The Secretary of State for Northern Ireland, Theresa Villiers, has told the Commons the report will be published during the week beginning 10 December.
The report has been through a government security check.
Mr Finucane was shot dead in his north Belfast home by loyalist paramilitaries in 1989.
Sir Desmond de Silva QC was asked to undertake a legal review of the case, amid long-running allegations of state collusion in the murder.
The secretary of state also said on Tuesday that neither she nor any other member of the government has read the report.
"As with the publication of the Bloody Sunday Inquiry, Billy Wright Inquiry and Rosemary Nelson Inquiry reports, I intend to give advance sight to those who the review has advised are interested parties, to their legal representatives, and to some members of both houses," she added.
The commissioning of the legal review angered members of the Finucane family who said it fell well short of the full public inquiry for which they had long campaigned.
Relatives subsequently launched a legal challenge against Prime Minister David Cameron's refusal to establish an inquiry.
Their criticisms were echoed on Tuesday by the shadow Northern Ireland secretary, Vernon Coaker.
"Successive Tory secretaries of state have shown a lack of commitment and sensitivity in dealing with Northern Ireland's past and the legacy of the Troubles," said the Labour MP.
"The case of Pat Finucane highlights the failure of their approach."