'Block suicide websites' call by DUP MP William McCrea in Commons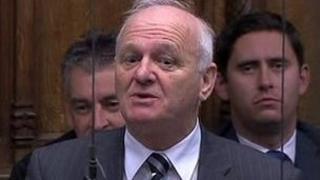 Not enough is being done to protect young and vulnerable people from websites relating to suicide and self-harm, DUP MP William McCrea has said.
Mr McCrea told the Commons that in an age of fast-moving technology, concerns had been expressed about the "considerable risk" of such material "easily accessible on the internet".
He was speaking as he put forward a 10-minute rule bill, a procedure for the introduction of a Private Member's Bill which is often used by backbenchers.
His proposed Suicide (Prevention) Bill would require Northern Ireland Secretary of State Theresa Villiers to set up a body to establish a public initiative for the prevention of suicide and self harm.
Alerts and blocks
This group would work with internet providers and others to reduce access to information on the internet and through other sources about suicide methods.
It would also develop a system of alerts and blocks for internet searches relating to suicide.
The South Antrim MP said suicide rates in Northern Ireland remained "stubbornly high" at about 15 to 16 deaths per 100,000 of the population.
In 2010, he said, the highest ever figure in Northern Ireland of 313 suicides was recorded, almost six times the rate of road traffic accident deaths.
Mr McCrea said Northern Ireland's suicide rate among young people was proportionally the highest in the UK, with the rate twice as high in economically deprived areas.
Young males were three times more likely than young females to die by suicide, he said.
'Shocking statistics'
In 2010, he said a total of 4,200 people took their own lives in England, with 288 in Wales and 781 in Scotland.
"These are shocking statistics, yet despite the startling nature of these, there remains a lack of public awareness of suicide as a major health problem, he said.
"Most people never give suicide a second thought until it touches them personally, yet the psychological and social impact of suicide in the family and society is immeasurable."
While he welcomed a commitment by the Department of Health to continue to work with the internet industry to create a safer online environment for children and young people, he said he believed not enough was being done.
"Whilst I am encouraged by these advances and continually impressed and inspired by the work of charities, voluntary organisations, community organisations and also churches that are committed to preventing suicide and self harm, there is yet more work still to be done."
He added: "So many say there is nothing we can do. I do not believe we can just wring our hands and suggest there's nothing we can do. We should do everything within our power to save the lives of these young people who are confronted with the temptation of suicide."
While Mr McCrea's Bill was given an unopposed first reading and listed for a second reading in January, it is unlikely to become law due to a lack of parliamentary time.