Dungannon Sinn Fein oppose David Black condolence book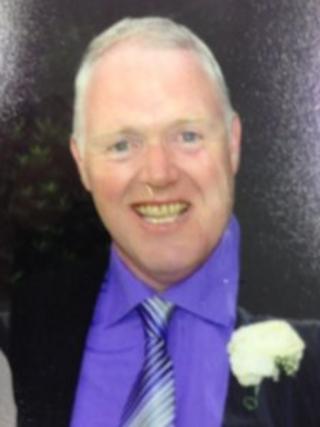 A UUP councillor in Dungannon has said he is "saddened" that Sinn Fein voted against opening a book of condolence for prison officer David Black.
Mr Black was shot dead on the M1 as he drove to work on 1 November.
Kenneth Reid said he first approached Sinn Fein mayor Phelim Gildernew a day later about paying tribute to Mr Black, but he declined to do this.
Mr Gildernew said there was a precedent that such books are only opened for people from the district.
Councillors backed Mr Reid's motion on Monday to open a book of condolence for the Cookstown man, with 13 in favour and nine against.
'Negativity'
Mr Reid said Monday night's meeting was the first time that the council had a chance to debate the matter.
"There was a lot of negativity coming from the Sinn Fein party and especially the mayor," he said.
"It's really sad that it had to come to that to get a book of condolence for a person, irrespective of their religious background or anything else."
Mr Gildernew said Sinn Fein had condemned the murder "in the strongest terms" and the party was not opposed in principle to such tributes "in the appropriate place".
"Indeed Martin McGuinness signed such a book in Cookstown where David Black was from and where it was entirely appropriate for a book of condolence to be opened." he said.
'Precedent'
"However in the case of Dungannon and South Tyrone Borough Council, the precedent has been that such books are opened for people who live in the district, the two previous cases being for Michaela Harte and families from the area who had relatives killed in 9/11."
The Sinn Fein mayor added: "Throughout the conflict no such books of condolence were ever opened."
Mr Reid said Mr Gildernew had given him a number of reasons for not having a book of condolence, including that they did not want to be seen to be singling out a Protestant victim.
"It might have been something that Dungannon council overlooked in 2011, when the Catholic police officer Constable Ronan Kerr was murdered in Omagh," he said.
"We should have had a book of condolence then as well."
Mr Black, a 52-year-old father of two, was the first prison officer to be murdered in Northern Ireland in almost 20 years.
A group calling itself "the IRA" said it was behind the murder. The new paramilitary group is believed to have been formed from an amalgamation of previously disparate dissident republican organisations.