Marc Ringland inquest: police officer reasonable to think life in danger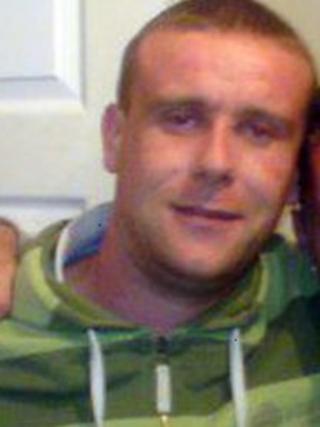 The family of an armed robber shot dead by an off-duty police officer have said they hope the inquest into his death serves to highlight the issue of knife crime.
The jury found the officer who shot Marc Ringland had reasonable grounds for believing his life was in danger.
Mr Ringland, 29, was carrying a knife when he tried to rob a filling station in east Belfast in February 2011.
His family's solicitor said the case showed knives were as lethal as guns.
'Sheer grief'
Speaking on behalf of the family, Denis Moloney said they hoped the lessons they had learned would also be taken on board by the wider community.
He said that Mr Ringland's mother Janet had died "of sheer grief" a few days after her son was shot dead.
Earlier on Tuesday, the officer told the inquest that he had "no option" but to shoot Mr Ringland.
The officer gave evidence from behind a screen to keep his identity secret. The jury has been shown CCTV footage of the incident.
Mr Ringland entered the filling station shop carrying a knife and stole more than £200.
The officer, known in court as Officer A, had returned to his car after making a purchase.
He told the inquest he saw Mr Ringland behind the till and thought there must have been a weapon involved when he realised no one in the shop was challenging him.
Fired one shot
Officer A got out of his car, went back through the door of the shop and shouted a warning at the robber as he drew his weapon.
He then fired one shot.
Officer A said he believed his life was in danger.
He claimed that just before he fired the shot, he saw Mr Ringland's expression changing. He felt there was "a determined look on his face."
"I felt he was going to stab me... I had no option but to shoot him," he said.
Members of Mr Ringland's family left the court as the CCTV footage was shown to the jury for a second time.
Earlier in the inquest, the jury heard that Mr Ringland, who had 133 convictions, was around three times over the legal drink drive limit at the time of his death.