Union: Belfast dental school staff 'overworked'
By Marie Louise Connolly
BBC Northern Ireland health correspondent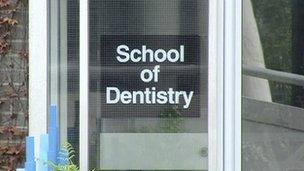 The union that represents lecturers at Queen's University has said it is concerned that some of its medical members may be so overworked that it could be affecting patient care.
The University College Union (UCU) was responding to a dental council report critical of the number of unfilled posts in the School of Dentistry.
The union said senior management still face many serious questions.
President Professor Mike Larkin said "patients must be better protected".
He added that the Belfast university had to get on with recruiting new staff.
"I am sure they are committed to finding new members of staff to come into the school and I believe that is a good thing," he said.
"But I believe they have to get on with the job of getting more staff to assist those existing staff in the dental school and their efforts to maintain a high standard."
In its report the General Dental Council (GDC), the UK body that regulates dental professionals, was critical about the number of unfilled posts and said that in some cases teaching loads had increased by 20%.
That, according to the GDC, was sometimes at the expense of their clinical practice.
Inspectors said "we feel that the intensity of the course and the commitment of the staff cannot be maintained for much longer" and "it was our strong feeling that the programme is in an extremely fragile state."
The UCU is to meet senior management at Queen's within the next seven days. It said management still faced serious questions about how they allowed the School of Dentistry to get into its present state.
In a statement the university said that increasing the number of clinical academics "is and has been a priority for dentistry and, although this is a challenging process that takes time, the university remains both 'pro-active' and 'flexible' in its approach to senior clinical appointments within the dental school.
"Dentistry has recently appointed two senior clinical academic posts in restorative dentistry and five clinical teaching fellows. Last week a further two professor/consultant posts in oral surgery and oral medicine were advertised.
"Applications to dentistry are up significantly which demonstrates the confidence that our students and prospective students have in the educational provision being offered. Recent league tables have also placed dentistry in the top 10% of schools across the UK."
Queen's School of Dentistry, which is based at the Royal Victoria Hospital in Belfast, sees thousands of dental patients every year.
As well as oral hygiene, consultants also deal with patients suffering from oral cancer and other serious illnesses. As a teaching hospital, some staff are also responsible for students.
In a statement, the Belfast Health Trust told the BBC that it continued to work closely with Queen's to provide a safe and sustainable dental service.
It added: "There is ongoing investment in dental services and there has been substantial collaboration between the Department of Health, the Belfast Trust and Queen's to upgrade clinical treatment and student teaching facilities at the School of Dentistry all of which offer significant benefits for patients and students.
"This year the trust has successfully recruited full time consultants in special care dentistry and oral surgery. Queen's University has advertised a number of clinical academic posts recently. The trust will be advertising new posts in the near future that will have a significant teaching element."