Bishop of Dromore John McAreavey to take sabbatical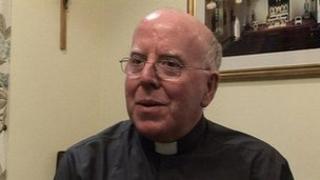 The Bishop of Dromore, John McAreavey, has announced that he is to temporarily step aside.
Dr McAreavey, 63, said he is to take a "temporary break" from administering the diocese.
He said that he plans to travel to Jordan, Israel and the Palestinian territories as part of the sabbatical, which will last from February until September 2013.
Bishop McAreavey has been in charge of the Catholic diocese since 1999.
"During this period I plan to spend time in prayer and study in the Holy Land. While there, I shall follow courses on the sacred scriptures,." he said.
"I look forward to this time as a period of spiritual and personal renewal, which will enable me to fulfil the ministry of bishop with greater energy in the years ahead," he said.
He said that the years since his ordination had been "fulfilling and challenging".
"In recent times, along with my family, I have experienced great sadness and tragedy. Having consulted with colleagues and friends, I have now decided to undertake this period of personal renewal," he said.
Bishop McAreavey is an uncle of John McAreavey, whose wife Michaela was murdered while on honeymoon in Mauritius in January 2011. His mother also died in August.
He said the murder of his niece had created considerable pressure.
"The trauma of it all affected all of us. Those of us who were close to that tragedy were clearly affected by it," he said.
The bishop said that the controversy over child protection did not have a bearing on his decision to take a sabbatical.
Monsignor Aidan Hamill, Vicar-General of the diocese, will administer Dromore during Bishop McAreavey's absence.