Domino's pizza driver threatened in Antrim estate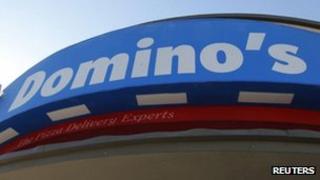 An employee from a pizza outlet in Antrim was threatened by a masked man as he made a delivery, police have said.
The Domino's delivery driver was in Craigyhill estate at 03:20 GMT on Monday when a man wearing a balaclava told him to leave the area.
The police said the man was described as about 5ft 9ins tall and stocky.
A spokeswoman for Domino's said they would work with the police to protect their drivers.
The Mayor of Antrim, Roy Thompson, said: "This is being viewed as a very serious incident. I would appeal to the general public in the area to come forward with information, no matter how minute, to assist the PSNI in bringing the investigation to a conclusion".
On Sunday, a delivery driver at the same takeaway was sent home for wearing a poppy.
The police are also investigating a report from staff at the outlet of threats being made against the premises on a social networking website.
In a statement, the firm said team members were not permitted to wear poppies in store for food safety reasons, as the pins were "very small and could easily detach".
However, it said delivery staff were "free to wear poppies if they so wish".
The firm added that it was "aware of the sensitivities around wearing poppies in Northern Ireland".
"As our stores are food preparation areas we absolutely cannot risk any foreign bodies falling into the food, we are sure our customers can appreciate that the safety of our food is paramount.
"The store would like to apologise for any confusion caused and an investigation into how the misunderstanding occurred will be carried out.
"We are happy for our team members to wear proper enamel poppy pins with a secure back to them and will be speaking with the British Legion to make these available to our team members in future years."