Wrightbus wins Hong Kong bus order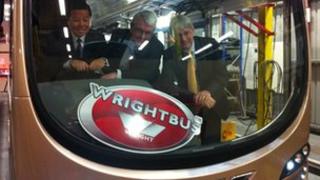 A Hong Kong-based bus company has ordered 50 new double-decker buses from the County Antrim firm, Wrightbus.
The Kowloon Motor Bus Company agreed the deal, with a view to ordering more vehicles from the Ballymena-based manufacturer in the near future.
Wrightbus is arranging for some of its shop floor workers to go to China to oversee the construction of the buses.
A number of Wrightbus staff involved in the order are learning Chinese ahead of their trip.
Northern Ireland's first and deputy first ministers are leading a business delegation to China on Monday for a six-day trade mission aimed at promoting investment and tourism.
Peter Robinson and Martin McGuinness are due to visit the headquarters of the Kowloon Motor Company on Saturday.