Sammy Wilson unveils cash underspend details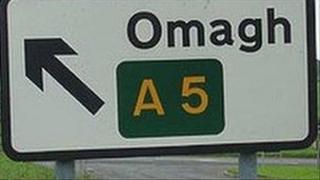 The halt in building the A5 road could cost the NI executive £50m in lost funds by the end of the financial year.
The warning came as Finance Minister Sammy Wilson unveiled details of unspent money departments had returned and how it was being reallocated.
The largest amount came from the Department for Regional Development due to delays in starting the A5 project which is the subject of court action.
Each month £10m allocated towards the project is unspent.
By the end of the financial year in March that will reach £80 million.
Under Treasury rules, Stormont has to hand back unspent money at the end of the financial year to Westminster.
Struggling
To prevent all of this money disappearing, the executive is struggling to find ways to lend it out to other projects.
Thirty million pounds has been lent to Northern Ireland Water (NIW) and the Roads Service. NIW intends to spend the money on flood alleviation projects, while the Roads Service will spend it on roads maintenance schemes. The money will be paid back next year.
However, it is unlikely that there will be a suitable project to which the remaining £50m can be lent before the end of the year.
Because the money is ring-fenced, it ultimately has to return to the A5 project and therefore the Treasury could take it back.
Up to around £13m of capital spending can be "carried over" to the next financial year by Stormont, but that is likely to be used up by a range of smaller projects.
So, without Treasury approval, that £50m underspend is at risk.
It is understood that Finance Minister Sammy Wilson will be seeking a special exemption from the Treasury to allow him to keep the funds in Northern Ireland. But that agreement is not guaranteed.