Belfast family view robbery death CCTV video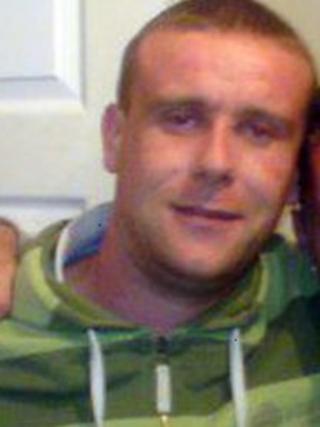 The family of a man shot and fatally wounded by an off-duty police officer during a robbery have watched CCTV of the incident at his inquest.
Marc Ringland was shot in the chest seconds after robbing an east Belfast garage at knife-point in February last year. He died later in hospital.
CCTV seized from the garage on the Albertbridge Road showed the officer opening fire from close range.
Mr Ringland was seen approaching him carrying a kitchen knife.
Media reports at the time that Mr Ringland had held the knife to the throat of someone in the shop were not borne out by the pictures.
Witnesses told the Office of the Police Ombudsman that the off-duty policeman had identified himself as a member of the PSNI.
He had given a "clear, loud warning" before opening fire.
A file was prepared for the Public Prosecution Service. It ordered no further action.
The inquest heard the officer had also been found not to have been in breach of PSNI guidelines on the discharge of weapons.
Staff and customers in the shop at the time gave evidence to the inquest. One said there had been a "very clear, loud and forceful instruction" to Marc Ringland to drop the knife.
All said that only seconds had elapsed between the warning and the fatal shot.
The inquest heard that after shooting Marc Ringland, the officer who is listed only as Constable A, had given him first aid and sought to reassure him.
Constable A will give evidence to the inquest on 13 November.