Man dies after balcony fall in Strabane nightclub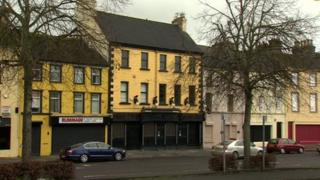 A 37-year-old man has died after falling from the balcony of a nightclub in County Tyrone.
Kevin McBride was killed in the incident at Dicey Reillys in Market Street, Strabane, shortly before 02:00 GMT on Sunday.
Police are investigating how the accident happened.
They are appealing to anyone who was in the nightclub and witnessed what happened to contact them.
Kevin's mother Patricia said she and her son were very close.
"I don't think it has sunk in yet.
"Kevin is a type two diabetic, I leave down his tablets for him in the morning.
"What used to worry me was if anything happened to me who's going to look after Kevin's tablets.
"I had him spoiled even though he was 37.
"He still lived with me and I couldn't be without him."
Mrs McBride lost her other son, John, in tragic circumstances eight years ago.
"The only thing that is keeping me going at the minute is that John is not alone anymore, he has Kevin for company.
"He was a fantastic son I don't know how I am going to survive without Kevin."
Kevin's sister Dolores also paid tribute to him.
"He was a loyal brother, a loving bother, a loving uncle and a loving son.
Independent local councillor Eugene McMenamin said people had been left "shocked and numbed" by news of the tragedy.
"I've been talking to several local residents today and this is a sad day for this area," he said.
"The family are very well known, very well respected and our thoughts and prayers are with them at this sad time."