Irish Republic votes in favour of boosting child rights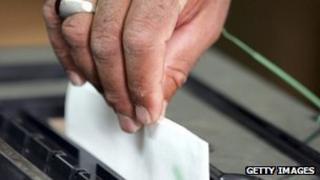 Voters in the Republic of Ireland have approved the Children's Referendum amendment to improve child protection.
It was passed with a majority of 58% in favour with 42% against. More than 3.1m people were eligible to vote, but a low turnout of 33.5% was recorded.
Taoiseach Enda Kenny described the result as a "historic day" for the children of Ireland.
"It is the first time the constitution of this Republic will recognise them as citizens in their own right," he said.
"The passing of this amendment will help make childhood a good, secure and loving space for all our children.
"It will also give hope, reassurance and confidence to parents, foster parents and vulnerable children."
The new amendment looks at a number of areas of children's rights, including state intervention in exceptional circumstances and protection.
'Shameful past'
The new article also says the best interests of the child should be the paramount consideration in any legal proceedings.
One tangible change will take effect in the Irish Republic's adoption laws whereby all children, regardless of their parents marital status, will be treated equally under adoption law.
The referendum had been promised by successive Irish governments for more than 20 years.
It followed a series of child protection failures.
Since 1970 there have been 17 major reports on child protection failings in the Republic.
The Children's Rights Alliance (CRA) said the Irish electorate had gone some way in addressing the country's "damning history" of child abuse by voting yes in the referendum.
"As the Jimmy Savile scandal continues, Ireland has started to turn a corner in its own shameful past," said Tanya Ward, chief executive of the CRA.
"We will never be able to take away what happened to children in industrial and religious institutions in Ireland. And we won't be able to protect every child from abuse in all situations, in the future.
"However, we do now have a constitution that offers clear and strong legal protection for our children."
All of the Republic's political parties, both in government and opposition, campaigned for a yes vote.