Belfast Maze priest Monsignor Tom Toner dies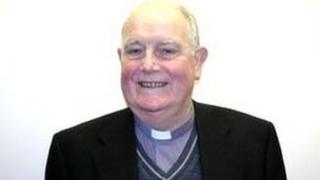 Monsignor Tom Toner, a Catholic chaplain at the Maze during the IRA's 1981 hunger strike, has died.
He was in his mid-70s, and had been ill for some time.
Monsignor Toner was formerly of St Agnes's parish and St Peter's Cathedral in Belfast.
He was a senior figure in the Diocese of Down and Connor. Msgr Toner also did a lot of inter-denominational work in Belfast.
He pioneered a shared society through a partnership with Dean John Shearer, the Church of Ireland Dean of Belfast, which brought the two cathedrals together.
Childhood friend and fellow priest, Father Dan Whyte, said Msgr Toner was "an accomplished, gifted and eloquent preacher".
"He had a highly developed pastoral sense, and I mean by that he looked after his people. He really cared for them, he was a people's priest."