Irish Republic child referendum votes counted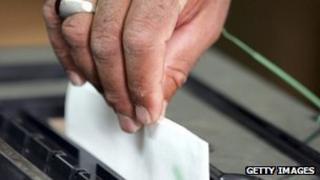 Votes are being counted in the Irish Republic's referendum on whether or not children should be given express rights in Ireland's Constitution.
Turnout has been projected at about 30%, by state broadcaster RTE.
The results are being collated at the central count centre in Dublin Castle, where the referendum returning officer will declare the overall result.
The referendum had been promised by successive Irish governments for more than 20 years.
It followed a series of child protection failures.
Since 1970 there have been 17 major reports on child protection failings in the Republic.
Saturday's poll on the symbolic inclusion of children in the constitution also set out the responsibilities of the Irish state in maintaining rights of children.
It allows the Irish state in exceptional circumstances to take the place of parents.
The constitutional referendum on children's rights is the Republic's tenth referendum in 11 years.