SDLP to hold other Stormont parties 'to account'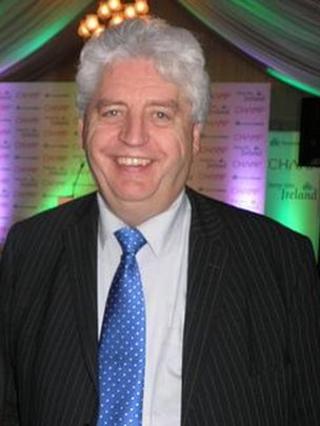 SDLP leader Alasdair McDonnell has told his party's conference their main role is to hold other parties to account.
Dr McDonnell told delegates that the SDLP rejected the stagnation of a "complacent and paralysed executive" at Stormont.
"We are a watchdog within the executive," he said.
"Through our minister Alex Atwood, we will face the difficult decisions head on. And our watchdog's bite is every bit as bad as his bark."
"The first minister uses honeyed words about normalising Stormont and moving out of orange-and-green politics to left-and-right as a means of tricking voters into somehow thinking that a return to unionist domination under Peter is in their best interests.
"That isn't innovation.
"That's just sectarianism with a fresh lick of paint."
He also said that if Sinn Fein were serious about a process of reconciliation and truth, they should "start with telling the truth".
"The protection of the peace process has been used as a barrier to progress on truth and reconciliation issues, issues which really matter," he said.
"We need real reconciliation and effective government."
Among the main issues on the agenda at the conference were parading, policing and Northern Ireland's economy.
The party's Alban Maginness defended the Parades' Commission and said it should remain as a parade regulator.
Mr Maginness said there was "shameful misbehaviour" at a Royal Black Preceptory march outside St Patrick's Church in August.
Political failures
A loyalist band was filmed marching in a circle outside the church, playing a tune perceived to be sectarian.
"It would be wrong to describe this appalling incident and those that followed as another example of north Belfast's innate sectarian DNA, but rather a symptom of the failure of our political systems to address the problem of sectarianism within our society," he said.
The BBC's political editor Mark Devenport was at the conference.
He said sources had told him delegates had rejected attempts by Dr McDonnell to change the way party was organised during closed a session on Friday night.
"One proposal rejected would have set up a permanent election directorate under the control of leader with more control over the selection of candidates," he said.
"Another idea knocked back would have meant leader and deputy being elected on the same slate rather than having separate mandates as they do now."
Shadow Secretary of State Vernon Coaker Shadow told delegates in an address on Saturday that "sometimes in government the Labour Party didn't treat the SDLP with the respect you deserved" and did not "always show your our gratitude".
On Friday, the party's deputy leader said they should be thinking about going into opposition at Stormont.
Dolores Kelly said her party was becoming tarnished by the failures and behaviour of the DUP and Sinn Fein.
However, in his speech the party leader did not mentioning withdrawing from the executive.
Sinn Féin MP Conor Murphy said the SDLP was "deluded about its own position" and "increasingly politically irrelevant".
"Mr. McDonnell has expressed his desire to get more representatives onto the executive while only yesterday his colleague Dolores Kelly called for the SDLP to go into opposition," said Mr Murphy.
"The SDLP needs to realise that it cannot have its cake and eat it. It cannot expect to claim credit for all the good work coming out of the executive while refusing to do any of the heavy lifting."
Alliance Chief Whip Stewart Dickson said despite being leader of the SDLP for one year, Dr McDonnell has offered "nothing new" for Northern Ireland or his party.
"When he became leader, Dr McDonnell said that he would deliver a resurgence in his party's support, but if anything they are in a worse than they were last year," he said.
"He is not offering anything new for his party of Northern Ireland."