Dolores Kelly says SDLP 'should think about opposition'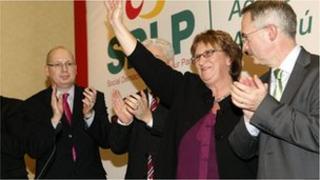 The deputy leader of the SDLP says her party should be thinking about going into opposition at Stormont.
Dolores Kelly says her party is being tarnished by the failures and behaviour of the DUP and Sinn Fein.
At her party's annual conference in Armagh, she said the SDLP would "lose a few jobs by leaving government but could lose its soul" if it stays.
Questioning whether the SDLP should go into opposition the Upper Bann MLA said the party must think about its options.
She said the party should not "walk out of government next week or next month" but should be thinking about where all this is going.
She also questioned whether the party needed "more freedom to act ".
The environment minister Alex Attwood is the party's sole member of the Executive.
The SDLP conference began on Friday in Armagh and ends on Saturday afternoon with a speech from party leader Alasdair McDonnell.