Bank robber 'robbed guard on way into bank with empty cash box'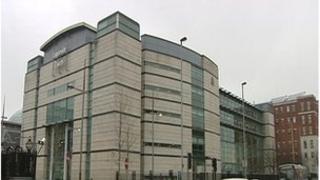 A bank robber struck too early and stole an empty cashbox from a security guard on his way into a bank, Belfast Crown Court has heard.
Joseph O'Callaghan, 31, of Gleann Si, Rostrevor, was jailed for nine years for robbery and possessing a knife in public on 8 April 2011.
"It is amazing that you can do all this planning and you decide to attack the man when he is going into the bank as opposed to waiting until he comes out," the judge told him.
"It shows the level of intellect we are dealing with."
Belfast Crown Court heard that at 11:20 BST on 8 April 2011, a security guard left his van and was walking into the Northern Bank on Belfast's Lisburn Road when a large knife was "brandished" in his face.
A prosecuting lawyer said CCTV showed O'Callaghan getting out of a parked car, running to the guard and threatening him with the knife before lifting the box and getting back into the car which then sped off.
Shortly afterwards the car was found burnt out near Divis Street and the lawyer said police enquiries led them to O'Callaghan.
When he was arrested, police noted that he had purple dye on his fingers, the same type of dye used in cash security boxes.
The box, which turned out to be empty, was recovered from a flat.
O'Callaghan's defence lawyer said while there was clearly an element of planning involved, the fact that he robbed the guard on his way into the bank indicated the "level of professionalism" attached to the case.
Handing down the nine-year term, the judge said that in an effort to protect cash-in-transit guards, deterrent sentences would be handed down.
She ordered that O'Callaghan spend four years in jail and five on licence