McCausland rules out call for six-month freeze on government's 'bedroom tax'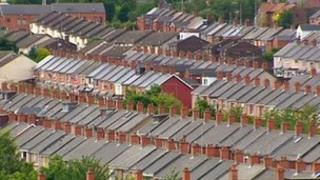 Northern Ireland's social development minister has ruled out any postponement of the "bedroom tax", due to be introduced in April next year.
Housing Associations in Northern Ireland had called for a six-month delay, warning that thousands of people could face "severe hardship".
But Nelson McCausland said: "There would be a very significant cost attached to a delay and I don't think it is necessary."
He was speaking at the NI Federation of Housing Associations conference on the outskirts of Belfast on Friday.
"Bedroom tax" - the under-occupation policy - is a new welfare reform policy that the government says protects the taxpayer from having to pay for a two or three-bedroom house for a single person.
The extra bedroom is a luxury, the government says.
But critics say it ignores the circumstances of divorced or single parents with part-time access to their children.
The minister told the conference: "The best way forward is the use of discretionary housing payments.
"We have increased the money there for those that may be affected."
On housing reform, he said he had circulated a paper among Stormont ministers on his plans for the future of the Housing Executive. He hoped to outline proposals to the Assembly in the coming months.
Cameron Watt, chief executive of the Northern Ireland Federation of Housing Associations (NIFHA), had called on Mr McCausland to delay the new tax.
"From next April, social housing tenants in Northern Ireland who are considered to be living in a home bigger than they need, will no longer be able to receive the housing benefit to cover the full rent for that property," Mr Watt said.
"What we are going to have is 32,000 households in social housing in Northern Ireland - whether they are housing executive tenants or housing association tenants - facing a major shortfall in their rent, perhaps up to 25%. That is of huge concern to us."
Mr Watt said the association would like the minister to secure more flexibilities for Northern Ireland
He said disabled people and foster carers should be exempted from these changes and a delay of another six months would allow tenants and landlords enough time to prepare.
"At the moment, the changes are still being debated at Stormont, they haven't been finalised," he said.
"Our concern is that there could be a gap of only a week or two between the legislation being finalised and passed and these changes kicking in. We don't think that is enough time to give tenants and landlords the chance to prepare."
Mr Watt said the proposals for "bedroom tax" were Great Britain-wide. However, the situation in Northern Ireland was different.
He said that in large parts of Great Britain, there are many more smaller social homes of one or two bedrooms. Tenants who wanted to move would have a realistic chance to down size to a property which their benefit would cover.
"Here in Northern Ireland, we haven't been building one-bedroom homes in social housing for a long period of time and there have been very good reasons for that," he said.
"It does mean that of 32,000 households, very few of them are going to be able to down size to that property and be able to have their rent fully covered by housing benefit."
He said it was unrealistic to imagine that the tax would be scrapped, however a delay in introducing it from April to October 2012, would be "necessary, realistic and fair".
Mr Watt said there were no "easy fixes" for the problem and warned that an estimated Housing Benefit shortfall of £10m a year would lead to severe hardship.