Polish women face Dungannon sham marriage charges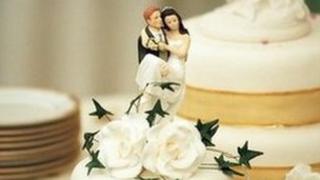 Two Polish women have been in court over an alleged sham marriage at Dungannon council offices.
Agnieszka Kobus, 42, of Chestnut Grove, Aughnacloy, is accused of agreeing to marry Pakistani Muhammad Zafran to allow him to obtain UK residency.
Hanna Adamczyk, 41, is charged with agreeing to act as a witness in the sham marriage on 17 October.
The pair were remanded on £300 bail each and ordered to return to court on 7 December.
A detective constable said he could connect both women to the respective charges.
Dungannon District Judge John Meehan ordered the women not to leave Northern Ireland or apply for any passport or identification cards.
They are also to have no contact with Mr Zafran and sign weekly with police.
UK Border Agencies swooped just before the ceremony was to begin and arrested all three defendants.
They were questioned separately and failed to provide satisfactory answers to enquiries, after which they were arrested.
Both women were later bailed while Mr Zafran was remanded in custody, appearing in court two days after his arrest. His case is due for mention by video-link next week.
The court heard Mr Zafran had been in Northern Ireland since July 2010, where he worked in various roles in the security industry.
He had been in the UK on a visa which was due to expire on 22 October and no extension had been applied for.