Quinn Group premises in arson attack in Derrylin, Fermanagh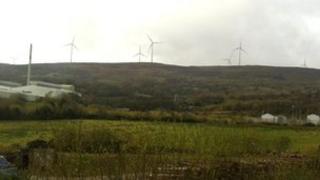 There has been an arson attack at Quinn Group premises in Derrylin, County Fermanagh.
Some time between 18:00 GMT and 19:00 GMT on Thursday, an electrical substation on a windfarm on the Ballyconnell Road, was set alight.
No one was injured during the incident, but the substation was substantially damaged.
There have been a number of attacks on Quinn Group property since new management took over the firm in 2011.
In January, there was a fire at group headquarters, while in December of last year a lorry was driven into the same complex.
Fermanagh businessman Sean Quinn, who lost control of the company, has condemned previous attacks.
He said those responsible for the damage were not acting in his name and he called for them to stop.
Mr Quinn is currently serving a nine-week prison sentence in the Republic of Ireland for contempt of court.
The 66-year-old former billionaire, once Ireland's richest man, will be due for release on 4 January.
He has been involved in a legal battle with Irish Bank Resolution Corporation (IBRC), the former Anglo Irish Bank.
Mr Quinn accused the IBRC of wrecking his company and pursuing a "vendetta" against him and his family.