Irish ministers to attend Remembrance Day ceremonies in Northern Ireland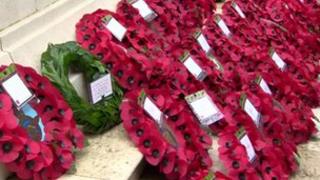 Irish Prime Minister, Enda Kenny, will attend a Remembrance Day ceremony in Enniskillen on Sunday.
The County Fermanagh town is marking the 25th anniversary of the IRA Poppy Day bomb that claimed 12 lives.
On the same day, an Irish government minister will take part in the annual Remembrance Day service for the war dead in Belfast, for the first time.
The Irish Minister for Foreign Affairs, Eamon Gilmore, will lay a wreath at Belfast City Hall cenotaph.
The annual Belfast ceremony is jointly organised by Belfast City Council and the Royal British Legion.
In January this year, the council passed a resolution inviting the Irish government to participate in events to mark both the anniversary of Battle of the Somme and Remembrance Sunday.
On 1 July, the Irish Minister for Transport, Alan Kelly, became the first member of the Republic's government to take part in the annual Somme commemorations at Belfast City Hall.
He laid a laurel wreath at the cenotaph in memory "of those lost a the Battle of the Somme, on behalf of the government of Ireland".
At the time, Mr Kelly said it was important to "acknowledge the sacrifices that have been made, not just in this jurisdiction but also the Republic".
Soldiers from the 36th (Ulster) and 16th (Irish) divisions fought in the battle between 1 July and 13 November 1916.