Micheal Martin criticises Sinn Fein stance on policing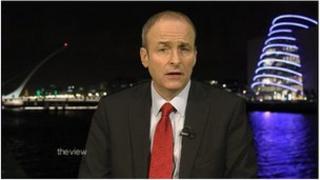 The leader of Fianna Fail, Micheal Martin, has launched an attack on Sinn Fein for protesting outside PSNI headquarters.
Mr Martin made his comments on BBC political programme The View.
Speaking from Dublin, he said Sinn Fein had a problem "in their credibility".
He added that he found it "staggering" that Sinn Fein protested outside PSNI headquarters while at the same time asking people to co-operate with the PSNI over the murder of David Black.
"I think that Sinn Fein have a problem in their credibility in attacking the activities of the Real IRA and the fundamental problem is, we saw it again this week, when I was travelling up to the funeral of prison officer David Black," Mr Martin said.
"I listened with incredulity really at the campaign Sinn Fein launched outside PSNI headquarters against the arrest of Padraic Wilson in relation to the murder of Robert McCartney.
"This is at the very same time that the PSNI are looking for people to co-operate with them in terms of finding the killers of David Black.
"So how can you on one hand condemn that activity, ask people to co-operate with the PSNI when on the very same day you are campaigning outside PSNI headquarters."
Mr Martin said in the Republic of Ireland, it would be extraordinary for a leading member of a political party to protest against its own police force.
"You cannot, if you are in government, undermine your own police force," he said.
Conor Murphy, Sinn Féin MP for Newry and Armagh, said "progress that we have made on policing and justice in the north to date would not have happened without Sinn Féin efforts."
"To dismiss calls by Sinn Féin for the killers of David Black to be brought to justice is disingenuous and is a crass attempt at political point scoring on the back of a very emotive issue.
"To try and link this and the calls for the release of Padraic Wilson following his politically motivated arrest is wrong.
"Let me remind Micheál Martin that there would not have been the advancement in the peace process or the progress on delivering an accountable and civic police service in the north without Sinn Féin.
"This includes dealing with a small element that have a mindset bent on blocking progress, who have blocked inquests, obstructed the work of the Police Ombudsman and have been involved in cover ups.
"We will not be deterred from these objectives. Where there is bad policing it will be challenged."