Musical on Anglo Irish banking crisis to open in Dublin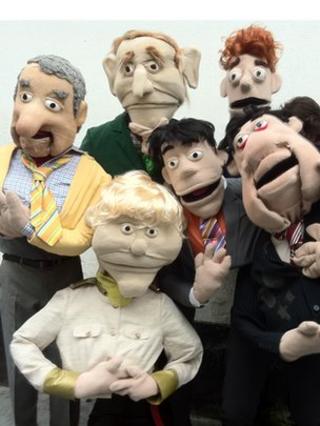 The collapse of Anglo Irish Bank in the Republic might seem more suited to Greek tragedy than musical satire.
The bank was nationalised in 2009 at a cost of about 30bn euros (£23.4bn) to Irish taxpayers.
But a musical satire on the collapse of the bank and the Irish economy, with lead parts played by Spitting Image-style puppets, will open in Dublin next week.
"Anglo Irish Bank is the story of our times," said writer Paul Howard.
"I think it's most significant episode in our history since independence and if Jonathan Swift was alive today, he'd want to write about Anglo Irish Bank."
The writer admits it was difficult to parody the folly of Ireland's 'Celtic Tiger' years because the reality was "so insane".
"There's a bar in Dublin that during the years of the Celtic Tiger was selling a cocktail called 'Minted' made up of 200-year old brandy, fine champagne and gold flakes on the top," he said.
"A 'Minted' cocktail cost 750 euros at a time and I observed quite a lot of bankers drinking them."
"Satire and parody are about finding something that is true and distorting it slightly and creating a cartoon image of it, but there was so much of what happened during the Celtic Tiger that it was difficult to improve on in comic terms."
'A lot of cheekiness'
Anglo the Musical is set on an island off the west coast of Ireland called Inisduill, a metaphor for pre-boom Ireland, and the story revolves around a modest couple and the arrival of an ambitious relative.
"Jimmy arrives on the island and sets up the first branch of Anglo Irish Bank on the island," Paul Howard explained.
"He points out to them that they are debt poor, one of those almost Orwellian terms used during the Celtic Tiger to describe people, and Jimmy persuades them to borrow 890m euros to build an apartment and shopping complex on the island."
"It is the story of how it unravels from there for them, for the bank and for the country as well."
'It only takes a few muppets to screw an entire country' is the tagline of puppet-heavy show.
Two of the numbers include 'Put A Zero On The End, He's A Friend' and 'We Are Where We Are'.
"I'm playing a character called Bertie, who was once a man of great power in the whole set-up and has fallen from grace a little bit, but gets out while the going is good," said actor David O'Meara.
"I think I am channelling a lot of cheekiness, a lot of chutzpah as they would say in Yiddish, an element of somebody who kind of charms their way around a lot of situations."
There has been some US interest in the musical, however, producer Darren Smith is not convinced that everyone will get the joke.
"I don't think people would get it outside Ireland" he said.
"Irish people obsess about what people overseas are thinking about us, they don't even know about the Celtic Tiger in box office terms."
"What we want to do as producers is crack this model in terms of puppet-based musical satire and adapt it to other subjects; if we went to the UK we could do 'Hacking the musical' or 'Boris the musical' or 'Blair the musical' or whatever is in the ether at the time."
Healthy ticket sales suggest that people in Ireland need something to smile about, even if it is about a bank that landed taxpayers with a massive bill.
"It's going to shape our lives for generations to come," said Mr Howard.
"Go to the departures lounge of Dublin Airport, I mean that's the manifestation of what happened in this country for eleven and a half years when we thought we had a booming economy, it all makes me angry."