Daniel O'Donnell sets UK chart record with 25 years album sales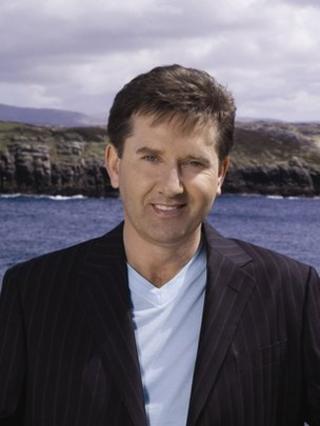 Donegal singer Daniel O'Donnell has made UK chart history by becoming the first artist to have an album in the UK charts each year for the last 25 years consecutively.
The Official Charts Company have confirmed that Daniel is the only artist to ever have achieved this.
O'Donnell latest album, Songs from the Movies and More, entered the charts this week at Number 7.
The singer said setting the record was a "fantastic feeling".
O'Donnell has had at least one album enter the UK charts each year since 1988.
In total, the Official Charts Company has registered that the singer has had 33 albums chart over the last 25 years and 19 singles.
Speaking to the BBC from Branson, Missouri, in the United States where he is currently on tour, O'Donnell thanked his fans for helping him set this record.
"I am delighted my new album made it into the top ten album charts and it's a fantastic feeling to have achieved chart success in the albums charts for the last 25 years," he said.
"I am lucky to have a very loyal and dedicated fan base who I can't thank enough for all their love and support over the years."
Loyal fans
Martin Talbot, the managing director of the Official Charts Company, who monitor UK album and single sales said O'Donnell's record is impressive.
"Daniel O'Donnell's track record, in charting with a new album every year for the past 25 years, is a truly impressive feat," he said.
"With that kind of consistency and output, there are few artists who can match him."
The Kincasslagh man first stepped onto a stage in 1982 with an electric guitar he could not play - all he wanted to do was sing. He made his first record the following year.
During his career O'Donnell has made albums of country music, Irish folk, gospel music, and songs from the 1950s and 60s.
"When I think back to the first album in the charts back in 1988, I thought it was incredible and to be given an MBE was also great but being named Donegal Person of the Year 1989 is one of the things which I will always hold dearest," he said.
"I also really enjoying playing in the Ryman auditorium in Nashville - people who love country music will know all the great memories from that building and all the great singers who sang there.
"Different things stick out from each year and each year brings something new, but having the success of the 25 years in the charts is a great personal satisfaction."
O'Donnell's fans may be surprised to hear he was not always destined to be singer, at one point he had considered a career in banking.
"I had looked at becoming a banker or a teacher but the call to singing was always really strong for me," he said.
"The last 25 years have been great. I don't regret a single day of it."