Five men jailed over Ballyclare riots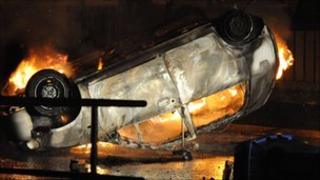 Five men have received jail sentences for their involvement in serious rioting in Ballyclare last year.
Violence flared in the County Antrim town after Union and paramilitary flags near a Catholic church were taken down.
Six officers sustained whiplash when a hijacked bus was used to ram a police vehicle.
The Recorder of Belfast Judge David McFarland said the riot had been a "naked, sectarian attack on the Catholic community" and their symbols.
The area's police commander Chief Superintendent Henry Irvine said there had been a "thorough and painstaking investigation" after the rioting.
"The scope and focus of the investigation has reflected our determination to bring those involved in rioting to justice," he said.
"These sentences should serve as a warning to others of the consequences of becoming involved."
In the dock at Belfast Crown Court were Richard Charnley, 25, from Clareville Park, Ronald Cowan, 56, from Thornhill Parade, Mark Graham, 23, from George Close, all Ballyclare, Chris Colhoun, 22, from Douglasland in Doagh and James Steele, 30, from Ballyfore Green in Newtownabbey.
All five pleaded guilty to rioting, while Cowan and Charnley also admitted causing criminal damage to a car on 10 July.
Charnley was jailed for two years and eight months, Cowan received a two year sentence, Graham got a three-and-a-half year term, Colhoun and Steele were jailed for one year and ten months each.
The judge ordered that each man was to serve half their term in jail and half on licence.