Tale of a headstone and the two James Neills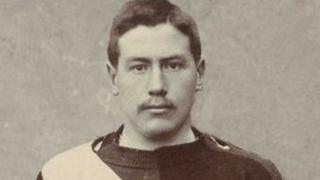 On a bitterly cold day, under a milky late-autumn sky, the RMS Leinster rolled and pitched in a heavy sea, 16 miles out from Kingstown, County Dublin.
Suddenly, from the depths, a torpedo surged forward causing panic and terror.
It missed. But any sense of relief was short-lived. A second torpedo from the attacking U-boat found its target - with deadly results.
The Leinster is lost along with 501 of those on board - to this day the greatest ever loss of life in the Irish Sea.
Among the bodies plucked from the sea in the days that followed was that of a Private James Neill of the Royal Irish Fusiliers who had been returning to the battlefields of France after a few days of home leave in Portadown, County Armagh.
His widow, Elizabeth, brought his body back to his home town and he was buried in Seagoe Cemetery with full military honours, another human tragedy in that war of human tragedies.
His story, however, does not end there.
In France, another James Neill was also to lose his life, overtaken by wounds received in battle. Again, he was serving with the Royal Irish Fusiliers and again he came from Portadown.
This Private Neill, however, was buried close to where he fell; in France.
His name was later added to his family's memorial tablet in Seagoe Cemetery.
After the war, the newly formed Commonwealth War Graves Commission was faced with the mammoth task of trying to ensure that casualties' final resting places would be known and remembered.
This mission took them all over the world.
94-year mix-up
In Portadown, however, the coincidence of two men with the same name, from the same town, belonging to the same regiment, was to lead to a 94-year mix-up that has just been put right after the Private James Neill buried in Seagoe Cemetery finally got a headstone.
Before this, it had been wrongly assumed by the commission that it was he who was commemorated on the family grave of the other James Neill.
The error only came to light six years ago when Barbara Murray, a volunteer with the War Graves Photographic Project, realised something was wrong in Seagoe Cemetery. She contacted the War Graves Commission and Amanda Moreno from the regimental museums.
"In the six years since Barbara realised something wasn't right, there's been a lot of research and hard work," said Amanda.
"Sometimes you hit the brick wall and you walk away from it. Then you come back and try again.
"Then, just a month ago, I actually found James Neill's service record which hadn't been available before then. That just allowed us to finish the research so completely to allow the family to learn all about him, which they hadn't known before."
Last week, James' closest living relative, his granddaughter Elizabeth Haworth, was guest of honour at a service to unveil his headstone in Seagoe Cemetery.
Piper's lament
A problem with the early maps of the cemetery meant it was not possible to pinpoint exactly the spot where he is buried. The headstone has instead been erected just inside the main entrance gates to the cemetery.
As a lone piper played a lament, Elizabeth and her husband placed a simple poppy wreath at the headstone. They had travelled all the way from Canada to be there on what was clearly an emotional day for them.
"I thought about the grandfather I didn't know," said Elizabeth. "And I thought about the grandmother I did know who lived so much of her life without him. And I thought about my mother who was 10 when he was drowned.
"All those thoughts were going through my mind; how his death had been very tragic, but also how it had affected their lives too."
For Amanda Moreno, it was a day of satisfaction and pride.
"The grief of families never really goes away," she said. "It doesn't matter that it was a hundred years ago; it's as real for them today as it was at the time.
"And I just think it's my job, my privilege, to be able to pay honour to him and to help to give some release to that grief and to show them that we respect what he did and that we will never forget that."