Antrim Area Hospital deals with 18 cases of suspected norovirus infection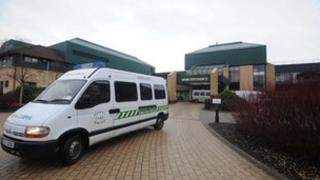 A ward has been partially closed after 18 cases of an infection - believed to be the winter vomiting bug, norovirus - were reported at Antrim Area Hospital.
The Northern Trust said 13 patients and five staff have contracted infectious gastroenteritis - suspected norovirus.
In one ward where three patients have the infection, a bay has been closed. In another, 10 patients were affected, though none was seriously ill.
The trust said the spread of the bug "has been brought under control".
A spokeswoman said all 10 patients in the second ward were either "recovered or recovering" from the infection.
Restrictions
The trust is awaiting laboratory test results to confirm whether or not it is norovirus but said the bug is currently circulating in Northern Ireland.
The infection causes severe vomiting and diarrhoea and can be transmitted through infected food or water or by air.
In a statement, the Northern Health Trust said it has placed restrictions on visitors in affected areas but needed the support of patients, carers and the public to reduce the risk of infection in its hospitals.
"We would ask that individuals visiting patients in our facilities should avoid doing so if they have vomiting and diarrhoea, cold or flu symptoms.
"Members of the public who are attending our Accident and Emergency departments should advise the staff on arrival if they have gastrointestinal symptoms.
'Intensive cleans'
"This is extremely important to ensure that any condition considered to be of an infectious nature is identified and managed promptly," the statement said.
The trust added that it regularly monitors the cleanliness of wards, patient equipment, as well as the prescribing of antibiotics and "hand hygiene compliance".
In addition, it also operates an "ongoing programme of intensive cleans in wards as part of its strategy to ensure a low level of healthcare associated infections".