Police revisit M1 scene of David Black murder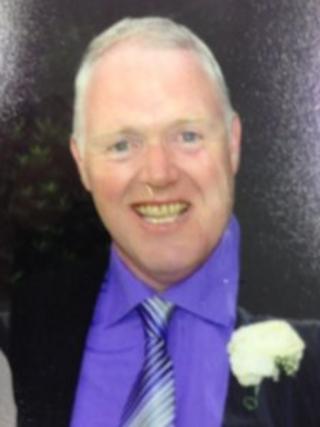 Detectives investigating the murder of Northern Ireland prison officer David Black have revisited the scene exactly one week after the attack.
He was shot dead on the M1 motorway in County Armagh on 1 November as he drove to work at Maghaberry Prison.
On Thursday morning, police mounted a number of checkpoints close to the M1. They spoke to motorists and gave them leaflets appealing for information.
Electronic signs ran a sequential message appealing for information.
'Getaway route'
At the Lurgan off-slip, a mobile appeal poster has been positioned to reinforce appeal messages.
Police also stopped cars in the Annesborough Road area of Lurgan as part of inquiries to determine whether this was the getaway route used by the killers in their dark blue Toyota Camry car before it was found burnt out in the Inglewood district of the town.
PSNI Assistant Chief Constable for Crime Operations, Drew Harris, said the investigation into Mr Black's murder was "substantial and complex".
"We are working closely with colleagues in a number of partner agencies, most notably An Garda Siochana (Irish Republic's police force), to follow various lines of inquiry," he said.
"We have a large amount of cctv material to analyse in relation to Mr Black's Audi, registration number HHZ 1560, and the killers' Toyota Camry which had a southern registration, number 94D 50997.
"We really do need to hear from anyone who has any knowledge about the Camry car in the days leading up to the murder or who saw it on Thursday morning.
'Disruption'
"We also need to speak to anyone who was on the motorway travelling eastbound towards Belfast last Thursday morning whether they joined it at Tamnamore, Loughgall, the Birches or Portadown."
Mr Harris said the public's help would be be vital if those responsible for the attack were to be brought before the courts.
"I would ask people to bear with us and to work with us in the coming days," he said.
"We will do our utmost to keep any disruption to an absolute minimum in terms of search activity and operational deployments such as this morning's traffic operation.
"We apologise for any delays or disruption but this is a murder investigation."
'Reward'
Mr Black said the police were committed to "deploying every lawful opportunity to apprehend the killers as this investigation develops in the weeks ahead".
"I would remind people there is a £10,000 reward available from Crimestoppers for information leading to the arrest and conviction of those responsible," he said.
Information can be provided anonymously to the independent charity Crimestoppers on 0800 555 111 or members of the public can speak directly to police by phoning the Special Incident Room on 028 3831 5291.
A man was arrested in Lurgan, County Armagh, on Wednesday, in connection with the murder and is being questioned at Antrim police station.
Mr Black, 52, was the first prison officer to be murdered in Northern Ireland in almost 20 years.
His funeral was held in his home town of Cookstown, County Tyrone, on Tuesday.
Wednesday's arrest is the fourth to have been made in the murder investigation.
Prominent Irish republican Colin Duffy, 44, and a 31-year-old man were arrested in relation to the murder last week. Police in the Irish Republic also arrested a 29-year-old man in connection with the killing.
All three have since been released.