Guests evacuated during fire at Ballymena Leighinmohr hotel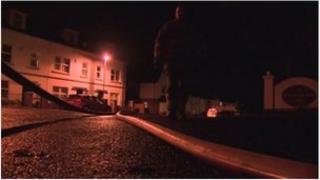 Around 160 people were evacuated from the Leighinmohr House Hotel in Ballymena after a fire broke out in a store room.
The fire was extinguished quickly by the fire and rescue service.
It caused mainly smoke damage to parts of the hotel and flame damage to the store room where it started.
At this stage it is thought the fire started accidentally.
Around 30 firefighters and six fire appliances attended the scene.