Subcontractor and supplier fears over Patton administration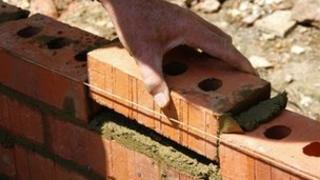 There are growing fears that the financial difficulties of the Patton Group could lead to job losses among suppliers and subcontractors.
The Ballymena-based building firm was placed into administration on Tuesday.
The business will continue to trade while the administrator, Tom Keenan of Keenan CF, decides its future.
It currently employs 320 staff in various parts of its construction business.
One company that spoke to the BBC said it was owed almost £1m from the firm.
Gordon Best, regional director of the Quarry Products Association NI, said that smaller companies may not survive if they do not get paid for their work.
'Heartbreaking'
"The unfortunate thing about the Patton administration is that it is not just a tragedy for Pattons and the workers but it is a tragedy for the whole of the Northern Ireland construction industry," he said.
"There are a lot of subcontractors and suppliers who were working with Pattons for a number of private and public sector clients. The reality is those suppliers of sand, stone, concrete and road materials will not get their money."
Patsy McGlone MLA, chair of the committee for enterprise, trade and investment, said a number of companies had been in touch with him to voice their concerns.
"Some of these local companies are owed substantial amounts of money and not getting paid could tip them over the edge."
Earlier, North Antrim MP Ian Paisley said he had met Executive ministers Sammy Wilson and Mrs Foster to discuss the firm's difficulties which he described as "heartbreaking".
"These stories which hit honest, decent, salt-of-the-earth folk like the Pattons and those who work for them, hit us all hard," he said.
"There are people in Ballymena tonight who are distraught and saddened that this has happened, but they will fight back and do what they can to try and get out of this problem that has arisen."
John Armstrong of the Construction Employers Federation said he believed Stormont ministers should invest further money in "capital infrastructure projects" to help the construction sector.
He said construction output had dropped by £1bn in Northern Ireland over the past five years, with the loss of thousands of jobs.