Willie McCrea calls for internet searches on suicide to be blocked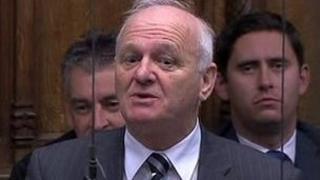 The South Antrim MP Willie McCrea has called on internet providers to prevent computer users being able to access sites that detail methods of suicide.
The DUP MP is to use parliamentary time in the House of Commons to call for a greater effort to tackle suicide.
He also wants the NI Secretary of State Theresa Villiers to set up a body to establish a public initiative for the prevention of suicide and self harm.
He said internet providers should block searches relating to suicide.
In October, an east Belfast group that helps people affected by suicide reported that seven people had taken their own lives in the last month.
The Survivors of Suicide Support Group said the stigma surrounding the issue meant it was being under-reported.
Last month in Fermanagh, six people took their own lives.
Those who died ranged from a 15-year-old schoolboy to a 69-year-old farmer.
Mr McCrea is to raise the issue in Westminster on Tuesday 13 November as a 10-minute rule bill.
This is a procedure for the introduction of a Private Member's Bill and is often used by backbenchers.
The South Antrim MP told the BBC that the issue of suicide should be a top priority "everything in our power should be done to tackle this".
He added that "suicide is a reality that has gone through every section of our community".