Patrick Harmon appears in court over stolen car crash in Ballysillan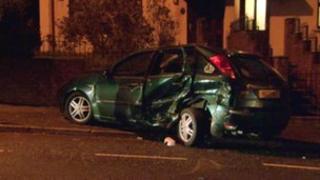 A Belfast man has appeared in court in the city, charged with hijacking a car that was later involved in a crash that injured two children.
Patrick John Paul Harmon has also been charged with a number of robberies, causing grievous bodily harm and possessing a knife with intent.
The 28-year-old, from Cliftonpark Avenue, was remanded in custody.
His co-accused, Pearse Forgione, 18, from Manor Close in Belfast, is charged with being in a stolen car with him.
The crash happened at Ballysillan Park, north Belfast at about 20:30 GMT on Monday.
The children, aged four and ten, were treated in hospital for their injuries.