Housing Executive wins first stage of court battle with Lord Rana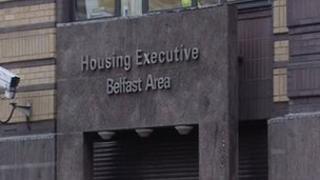 The Housing Executive has won the first stage of a court case that may end with it seizing land back from a prominent Belfast businessman.
It wants to take back a 2.6 acre site off Sandy Row in Belfast city centre and pursue the developer for damages for trespass and breach of contract.
Lord Diljit Rana's company, Lincoln Centre Belfast Limited, was granted control of the land in 1998.
It was part of a deal worth £3.6m but it has failed to develop it as agreed.
Instead it has been operating as a car park without proper planning approval.
There has been legal action dating back many years over the site, which is beside Lord Rana's Days Hotel on Hope Street.
But the issue came to a head when both sides served High Court writs on one another in 2010 and recently a judge ruled on the case.
The Housing Executive had become concerned at a lack of progress on a proposed 11-storey office development.
Hearing
The original plan envisaged it incorporating an underground car park, but due to costs Lord Rana's company sought to change the design.
Instead it proposed an overground, multi-storey car park.
A High Court hearing heard the Housing Executive sought to terminate the agreement, arguing the changes would mean "a lower quality scheme not meeting the original objectives".
A judge ruled in its favour, saying it was not obliged to consider the major alteration.
He said: "Developers take on risks.
"They take the benefit if the market rises but must face the consequences if it falls."
A further hearing is scheduled next week.
A Housing Executive spokesman said it was too early to comment.
Lord Rana's office did not respond to a request for a statement.
Earlier this month, Lincoln Centre lost an appeal to the Planning Appeals Commission over its existing car park.
In a statement on Wednesday, the Department of Environment said the car park at Great Victoria Street/Hope Street did not have planning permission.
It said an enforcement investigation was opened in October 2010 and a formal enforcement notice was served on 29 November 2011. It added that the notice requested the cessation of this use of the car park.
"Under the planning legislation people have the right to appeal enforcement proceedings to the Planning Appeals Commission (PAC)," the statement said.
"The PAC is independent of DoE planning.
"The enforcement notice was subsequently appealed to the PAC and the enforcement notice was upheld on 5 November 2012."
The DoE said the timeframe to comply with the enforcement notice was six weeks.
"DoE will require full compliance," it said.
"If not there will be further action to compel compliance."