Enniskillen bomb: Clegg says pursue any leads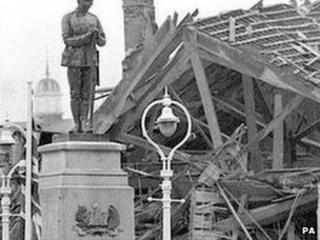 Deputy Prime Minster Nick Clegg has said he hopes any fresh leads into the 1987 Enniskillen bomb will be "pursued rigorously".
He said people should "pause and reflect" on the suffering of the families on Thursday, the 25th anniversary of the bombing.
Police are to consider if a new investigation should be launched into the Poppy Day bombing.
Eleven people were killed in the IRA attack on 8 November 1987.
Ronnie Hill, the former headmaster of Enniskillen High School, died 13 years after being injured in the attack. He never regained consciousness after the blast at the cenotaph.
A special unit of the Police Service of Northern Ireland, the Historical Enquiries Team, has been examining the bombing.
It has passed a report to the Serious Crime Branch, which will examine if there are new lines of enquiry.
The Liberal Democrat leader who was standing in for David Cameron during Prime Minister's Question Time also described the anniversary as a "difficult week ".
He was responding to a question in the House of Commons from the Strangford MP Jim Shannon.
The DUP MP said the Enniskillen relatives were still waiting for justice and that he hoped a fresh investigation by the HET would lead to new information.
No one has ever been convicted in connection with the atrocity, which was one of the worst of the Troubles.
Thursday marks the 25th anniversary of the bombing and a special memorial service is being held for the survivors and relatives of those who were killed.