Hospice patients move to new site as £11m rebuild is planned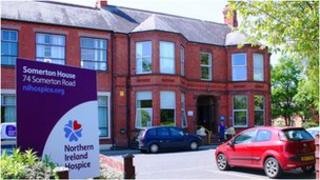 All patients are to be transferred from the Northern Ireland Hospice on Wednesday as it moves to a temporary home at Whiteabbey Hospital.
Thousands of terminally ill people have been cared for at Somerton House, north Belfast, since it opened 30 years ago.
However, the building is no longer fit for purpose and a new £11m rebuild is planned.
Heather Weir, head of clinical and nursing services at the hospice, said they had "outgrown the site".
"We are going to keep the exterior façade, but behind that it is going to be a facility suitable for the 21st Century and that will serve us for the next 26 years," she said.
Work on Somerton House is expected to take at least two years.
Northern Ireland Hospice has launched a petition urging the Northern Ireland Executive to contribute £2.5m towards the new build.
The charity is also fundraising to secure an additional £3m from public donations.