Attorney General John Larkin's role examined by review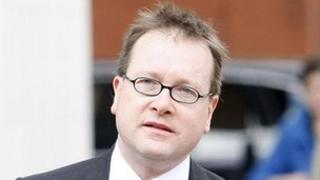 A report on the role of Northern Ireland Attorney General John Larkin has been compiled for the First and Deputy First Ministers.
The review examines his role as chief legal adviser to the Stormont executive and its departments.
It has been carried out by the former Scottish Lord Advocate, Dame Elish Angiolini.
Officials in the First and Deputy First Minister's office are currently considering it.
A Northern Ireland Executive spokesman said it was a limited review, which was initiated earlier this year.
The Attorney General's role has recently been the subject of some controversy, after Mr Larkin offered to assist the Assembly Justice Committee in its investigation of the Marie Stopes sexual health clinic.
Mr Larkin suggested that he could, if necessary, question witnesses himself over their compliance with the law on abortion.
However, Stormont sources said Dame Elish's report pre-dated the abortion controversy.
Officials said it had previously been agreed that aspects of the Attorney General's role as legal adviser should be reviewed after a period of operation.