Olympic aftermath - Lisa Kearney on London 2012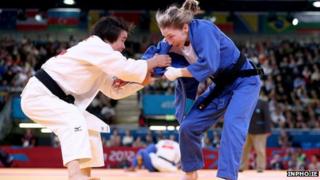 It's now over 100 days since the memorable opening ceremony of London 2012. BBC Sport NI has been reflecting with athletes on their experiences at the games and the impact on sport in Northern Ireland.
In part one, Nikki Gregg speaks to Lisa Kearney, who became a pioneer for Irish women's judo at the Games.
Lisa Kearney's moment in the Olympic Games was brief but hard-fought.
After battling through a tough qualification process just to make it to London, she became the first woman ever to represent Ireland in judo.
The 23-year-old, from Belfast, was unlucky with her first round draw, but narrowly lost a tough 48kg bout against Wu Shugen of China.
She lost on a golden score which is the sport's equivalent of extra-time.
Nevertheless, she recalls her moment in the Olympic spotlight with a smile: "Without a doubt my favourite memory was competing and hearing the stadium chanting my name," she told me.
"It's not often I would get support like that. Usually it's just me and my coach travelling around on our own.
"I think it was a 10,000 seater stadium and I was pretty sure everyone was chanting my name! To have a memory like that - it's unlikely I'll ever experience anything like that again."
'Back to reality'
She admits that getting back to normal life after the experience of London 2012 has been tough.
"How do you motivate yourself after you've just had the best time of your life, the pinnacle of your career?", she asks.
"It's hard to get motivated again for training and competitions and I guess after all that, normal life is less exciting.
"For two years every week and moment was geared towards going to the Olympics - then I got there and it was brilliant.
"After something like that, everyone, I'm sure, has a downer. I know I certainly had a downer. I came crashing back to reality."
For Lisa, reality has involved swapping training sessions for study. She is midway through a psychology degree at Heriot Watt University in Scotland, a course that she thinks has given her a unique perspective on what she's achieving in her sport.
"There's no point in being the best physically in the sport if you don't also have the mental skills required," she says.
"You'll never be the best you can be - you'll never be the top, world class athlete. The more I study, the more I know it helps me."
2016
But striking a balance between university study and training for an Olympics can be tricky and Kearney is having to pick up her degree studies after a hiatus when London 2012 was her sole focus.
"Last year, I didn't study at all as I was focussing on my training, qualification and everything else," she admits.
"Now I have a few niggles that are settling down and I've not got such an intense and busy training and competition schedule so I am filling my time with my university work.
"It's good to have something else to focus on, outside of such an intense sporting world."
So, for now, the degree is her next target but the games in Rio in 2016 loom large in her thoughts, especially after her brief taste of the Olympics in London.
"Although it was a disappointing result, it was a promising performance.
"I think just being able to compete at that level and do well was certainly something positive to take away from it and I know what areas I need to continue to work on and what things are going well.
"Certainly, I want to go to Rio - and I'm young enough to go on to do another games after that."