NI Assembly calls for reducing voting age to 16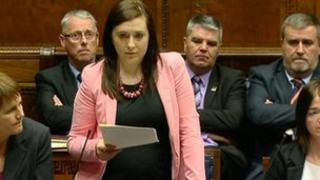 The Assembly has called for the voting age to be reduced to 16.
Fifty-one MLAs backed a motion brought jointly by Stormont's youngest member, Sinn Fein's Megan Fearon and the Green Party's Stephen Agnew.
29 MLAs have opposed the move.
Those in favour included both nationalist parties, the Ulster Unionists and the Alliance, whilst the DUP and the TUV voted against.
Although passing the motion provides an indication of opinions at the Assembly, it does not mean the law will change as electoral policy remains the responsibility of the Northern Ireland Office.
Miss Fearon, who is the youngest MLA, said she had only been entitled to a vote three years ago.
This was even though she had been "very politically aware" since her early teens.
"Much more must be done to engage with this younger sector," she said.